In the warm spring evening on the 23rd of March 2014 the festive release of more than 500 bats into the wild has taken place. This mass action has drawn hundreds of people who with pleasure released bats out of the hands and enjoyed pirouettes of these creatures in air over the forest. But this event is marked not only by that a lot of Kharkiv citizens were able to take a closer look at bats, it is also a successful finish of five-years of work on creation of The Batrehabilitation centerin Kharkiv.
History of the Bat rehabilitation center Feldman Ecopark
From the beginning of 1999 in the building of KhNU V.N.Karazin's and in Kharkov in whole the students and graduates of Department of biology (under the supervision of PhD A.S. Vlaschenko) saved the bats having fallen into a window trap or found by people. Now the young naturalists of Kharkov zoo and Feldman Ecopark also take part in this work. During these years we managed to obtain friendly attitude towards bats due to active outreach activities. But the main result is the saving and returning to the wild more than 3 thousands of bats! We get the massages about bat findings due to webpages of Kharkov zoo and other specialized sites (www.zoo.kharkov.ua, www.kazhan.org.ua), infocenters of Feldman Ecopark, The State Emergency Service, Animal rescue service. Last years our educative campaign is successful to a large extent due to involvement of mass media. The newspapers, magazines and TV took interest of bats. Twenty TV reports about bats were filmed 2012-2013 by television broadcasters of Russia, Ukraine and even USA (for example, http://www.objectiv.tv/011212/78045.html and www.today.com/video/today/51764814).
The animals found in winter were watered and feed and after were kept in living conditions till spring, and then surviving animals were released. Unfortunately, the rate of died animals ranges from 25 to 40%. The main problem of survival of found animals in winter is the lack of possibility to feed all the animals got into our hands. From year to year number of messages grows. 2005-2007 we get information about 150-2000 specimens in year at average, 2008 the number of animals passed through our hands was 419 specimens. In 2011 we got 766 bats from Gosprom building, 421 bats from KhNU building and 162 bats from other buildings of city. That's why it becomes more difficult to keep such number of animals at home.
From 2009 the work on organization of the Bat rehabilitation center in Kharkiv was began. The project documents were prepared where actuality and significance of such Center for conservation of critically endangered species and also material and technical resources for Center work organization were particularized. Bat specialists knocked at doors of different scientific and zoological organizations but were refused everywhere. And only in 2013 on the initiative of "Oleksandr Feldman Foundation" it was decided to create the first in Ukraine Center of bat rehabilitation in Feldman Ecopark.
Bats are the least of all studied group of mammals of Ukraine. All bat species in our country are included in endangered-species list. On the territory of Kharkov region 13 bat species and on the territory of Kharkov 9 species are known. These animals don't build any roosts by themselves but use those ones that are given by nature or people. Kharkiv with its multi-storied buildings attracts bats whose number increases from year to year. The rents in the wall of high buildings remind bats of rocky clifts where they hibernate natively.
The bats by themselves following their noses cannot prevent the dangers of city. During autumn migration a lot of bats fly into open windows to take an improvised shelter. In Kharkiv National University building hundreds of bats fall into the space between frames and die without taking them out in time. During winter thaws part of animals awakes and changes the roost so they are often founded in inner accommodation also. At high temperature and lack of water the animals lose their fat pool and die. The people also become a cause of bat death being in the trammels of superstition beliefs and fears. Bats are not mice!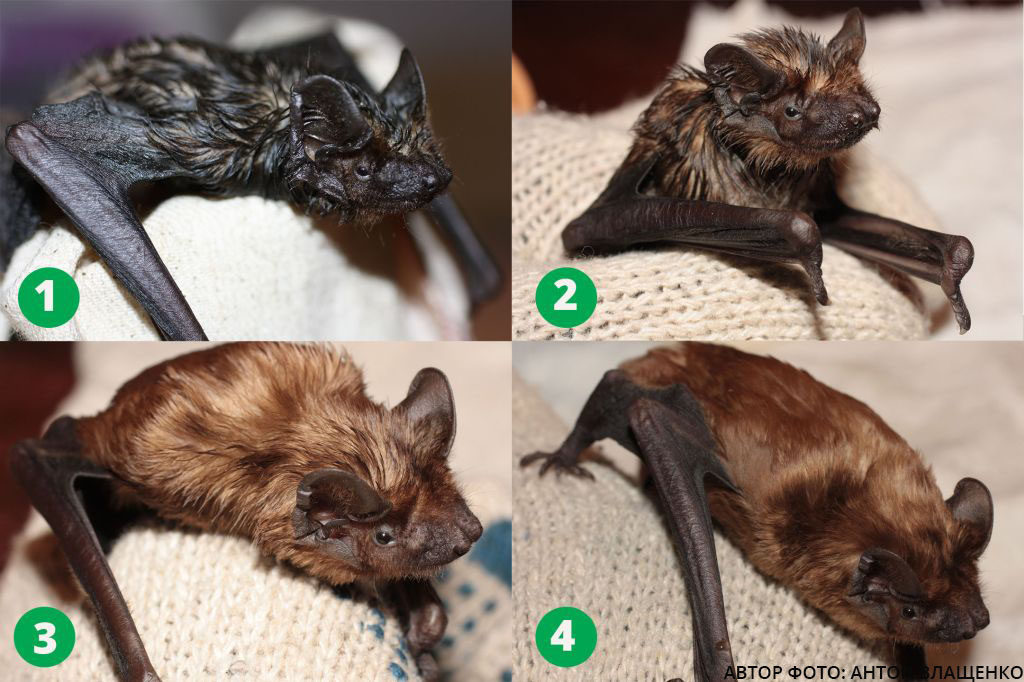 The statistics of the Bat rehabilitation center Feldman Ecopark
During 2013-2014 winter the specialists of the Bat rehabilitation center of Feldman Ecopark saved more than 600 specimenof 5 batspecies. Kharkiv citizens not indifferent to the fate of animals reported on the bat findings in accommodations and on the city streets. Bats were passed to the center of rehabilitation from other cities also: Poltava, Kupyansk, Zmiiv, Komsomolsky. Each specimen was examined carefully, watered, given vitamins, weighed and ringed. The animals with sufficient weight were placed on the hibernation to the special refrigerator with optimal for bats regime of humidity and temperature. Bats with insufficient weight, with injuries or just weakened were treated and fed by beetle larvae. The duration of feeding of each specimen was from 3 days to 1 month. During winter 13 kg of insects was eaten.
During 2015 in the Bat rehabilitation center worked 6 employees, more than 10 young naturalists and volunteers. In January, the Center has got its own office. In 2015 was a record number of rescued bats – more than 2,000. Mainly bats were found in Kharkiv city, as well as more than 100 animals were transferred to the rehabilitation centre from other regions of Ukraine (Kharkiv, Dnipropetrovsk, Zaporizhia, Donetsk and Cherkasy region).
Annually Feldman Ecopark held education action "Solemn release of bats in nature". More than 700 bats were saved during the winter 2014/15 and released during action. In 2016 – 500 bats were released. This event as always was lightened by the press. For example https://www.youtube.com/watch?v=SWub8BbyVkQ
Specialists of Bat rehabilitation center regularly hold educational lectures on bats for adults and children (in schools and libraries, Landau Center), take part in mass actions (Scientific picnics, Social vitamin), conducted its own actions (International Bat Night, Solemn release of saved bats), conduct a photo exhibitions and much more.
Everyone can help these animals and receive information in our Center!